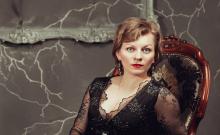 Studied at Mykola Lysenko Lviv National Music Academy at the department of solo singing (professor – People's Artist of Ukraine A. Lypnyk; assistantship – professor, People's Artist of Ukraine I. Kushpler). Since 2005 has been working at Lviv National Opera as a soloist.
In 2007 – was the laureate of International Vocalist Competition "Alchevsky debut" (Kharkiv, Ukraine).
Among the most successfully created artistic images are the following: Orfeo ("Orfeo ed Euridice" K.W. Gluck), Amneris ("AIDA" G. Verdi), Azucena (G. Verdi "Il trovatore"), Carmen (G. Bizet "Carmen"), Ulrica (G.Verdi "Un ballo in maschera") and many others. Also enjoys cantata-oratorio music, including the oratorio J.S. Bach. She has worked with the music agency «Da Capo Ukraine» (K&K Philharmoniker, K&K Ballett, K&K Opernchor), Morningstar Music Agency (Poland).
Tours: Poland, Hungary, Germany, France, Luxembourg, Belgium, China.